Silly kitty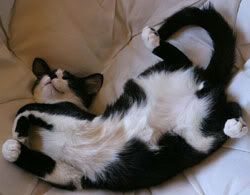 Little Joey (who you'll remember from
here
and
here
) has been sick. He even had to stay at the vet for fluids and x-rays (and the always popular thermometer up the bum). For two nights we stayed up with him like he was a sick child and slept in shifts. I have a wide variety of interesting scratches from trying to hold him over the sink when he vomited. Also, needless to say, the shag rug has gone in for cleaning.


Anyway, he's all better now. At five o'clock this morning Daniel woke me up to show me just how much better Joey was. You see, the vet suspected that there might be a linear obstruction - the kind that doesn't show up on x-rays. And before dawn, I was awoken from a deep slumber to be presented with something resembling a turd on a plate, although Daniel assures me Joey threw it up out of his
mouth
. On looking closer I could see rubber bands, hair and a cushion tassel.


WHY did he eat that stuff? Well, we're convinced that he's actually a well-disguised puppy. Not only does he eat really dumb things (we have found little bits of scouring pad thrown up on the floor because he ate them, but we never thought it'd come to this), but he's also crazy about people

and

he fetches.


By the way, Daniel wanted me to show you a picture of the turd-thing. I swear to God, he took a picture of it alongside a ruler (pedantic product photographer I guess). Of course just talking about this is already in bad taste, but if you're desperate to see the picture, something can be arranged.